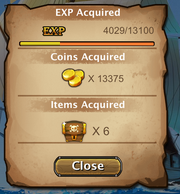 Each player start at level 1 and have next stats: 35 command points, 20 friends, 24 energy and can use 15 lines.
Winning battles provide experience, that will raise level of players and increasing this four values.
You can calculate Command Points by this formula - Level/2 + 35 up to level 180 and Energy by Level/2 + 24 up to maximum level.
In general you will gain one Command Point at even levels, and one Energy at odd levels. Maximum level cap currently is level 200.
Friends and lines are more tricky, but at level 60 you will get maximum number of lines - 21. And at level 61 maximum number of friends - 50 (Friends number can be increased further with gem shop).
Experience to next level
Edit
To reach each next level you need 200 more exp than previous.
Formula for exp to next level is - 200*level - 100
Starting from level 151 experience to level up raised by x2.5 - 29900 to reach level 151, 74750 to reach level 152, 75250 to reach level 153, etc.
So for levels 152-161 formula exp to next level is 500*<current level> - 250
From level 162-171 it's again increased by x2.5, and at level 172 this will continue. 
Stat Bonus for levelling
Edit
This chart states the Stat you should have for each level up to level 182
| | | |
| --- | --- | --- |
| Level | Max Energy |  CP |
| 1 | 24 | |
| 2 | | 36 |
| 3 | 25 | |
| 4 | | 37 |
| 5 | 26 | |
| 6 | | 38 |
| 7 | 27 | |
| 8 | | 39 |
| 9 | 28 | |
| 10 | | 40 |
| 11 | 29 | |
| 12 | | 41 |
| 13 | 30 | |
| 14 | | 42 |
| 15 | 31 | |
| 16 | | 43 |
| 17 | 32 | |
| 18 | | 44 |
| 19 | 33 | |
| 20 | | 45 |
| 21 | 34 | |
| 22 | | 46 |
| 23 | 35 | |
| 24 | | 47 |
| 25 | 36 | |
| 26 | | 48 |
| 27 | 37 | |
| 28 | | 49 |
| 29 | 38 | |
| 30 | | 50 |
| 31 | 39 | |
| 32 | | 51 |
| 33 | 40 | |
| 34 | | 52 |
| 35 | 41 | |
| 36 | | 53 |
| 37 | 42 | |
| 38 | | 54 |
| 39 | 43 | |
| 40 | | 55 |
| 41 | 44 | |
| 42 | | 56 |
| 43 | 45 | |
| 44 | | 57 |
| 45 | 46 | |
| 46 | | 58 |
| 47 | 47 | |
| 48 | | 59 |
| 49 | 48 | |
| 50 | | 60 |
| 51 | 49 | |
| 52 | | 61 |
| 53 | 50 | |
| 54 | | 62 |
| 55 | 51 | |
| 56 | | 63 |
| 57 | 52 | |
| 58 | | 64 |
| 59 | 53 | |
| 60 | | 65 |
| 61 | 54 | |
| 62 | | 66 |
| 63 | 55 | |
| 64 | | 67 |
| 65 | 56 | |
| 66 | | 68 |
| 67 | 57 | |
| 68 | | 69 |
| 69 | 58 | |
| 70 | | 70 |
| 71 | 59 | |
| 72 | | 71 |
| 73 | 60 | |
| 74 | | 72 |
| 75 | 61 | |
| 76 | | 73 |
| 77 | 62 | |
| 78 | | 74 |
| 79 | 63 | |
| 80 | | 75 |
| 81 | 64 | |
| 82 | | 76 |
| 83 | 65 | |
| 84 | | 77 |
| 85 | 66 | |
| 86 | | 78 |
| 87 | 67 | |
| 88 | | 79 |
| 89 | 68 | |
| 90 | | 80 |
| 91 | 69 | |
| 92 | | 81 |
| 93 | 70 | |
| 94 | | 82 |
| 95 | 71 | |
| 96 | | 83 |
| 97 | 72 | |
| 98 | | 84 |
| 99 | 73 | |
| 100 | | 85 |
| 101 | 74 | |
| 102 | | 86 |
| 103 | 75 | |
| 104 | | 87 |
| 105 | 76 | |
| 106 | | 88 |
| 107 | 77 | |
| 108 | | 89 |
| 109 | 78 | |
| 110 | | 90 |
| 111 | 79 | |
| 112 | | 91 |
| 113 | 80 | |
| 114 | | 92 |
| 115 | 81 | |
| 116 | | 93 |
| 117 | 82 | |
| 118 | | 94 |
| 119 | 83 | |
| 120 | | 95 |
| 121 | 84 | |
| 122 | | 96 |
| 123 | 85 | |
| 124 | | 97 |
| 125 | 86 | |
| 126 | | 98 |
| 127 | 87 | |
| 128 | | 99 |
| 129 | 88 | |
| 130 | | 100 |
| 131 | 89 | |
| 132 | | 101 |
| 133 | 90 | |
| 134 | | 102 |
| 135 | 91 | |
| 136 | | 103 |
| 137 | 92 | |
| 138 | | 104 |
| 139 | 93 | |
| 140 | | 105 |
| 141 | 94 | |
| 142 | | 106 |
| 143 | 95 | |
| 144 | | 107 |
| 145 | 96 | |
| 146 | | 108 |
| 147 | 97 | |
| 148 | | 109 |
| 149 | 98 | |
| 150 | | 110 |
| 151 | 99 | |
| 152 | | 111 |
| 153 | 100 | |
| 154 | | 112 |
| 155 | 101 | |
| 156 | | 113 |
| 157 | 102 | |
| 158 | | 114 |
| 159 | 103 | |
| 160 | | 115 |
| 161 | 104 | |
| 162 | | 116 |
| 163 | 105 | |
| 164 | | 117 |
| 165 | 106 | |
| 166 | | 118 |
| 167 | 107 | |
| 168 | | 119 |
| 169 | 108 | |
| 170 | | 120 |
| 171 | 109 | |
| 172 | | 121 |
| 173 | 110 | |
| 174 | | 122 |
| 175 | 111 | |
| 176 | | 123 |
| 177 | 112 | |
| 178 | | 124 |
| 179 | 113 | |
| 180 | | 125 |
| 181 | 114 | 126 |
| 182 | | 127 |
| 183 | 115 | 128 |
| 184 | | 129 |
| 185 | 116 | 130 |
| 186 | | 131 |
| 187 | 117 | 132 |
| 188 | | 133 |
| 189 | 118 | 134 |
| 190 | | 135 |
| 191 | 119 | |
| 192 | | 136 |
| 193 | 120 | |
| 194 | | 137 |
| 195 | 121 | |
| 196 | | 138 |
| 197 | 122 | |
| 198 | | 139 |
| 199 | 123 | |
| 200 | | 140 |